Boston Marathon Bombing Essay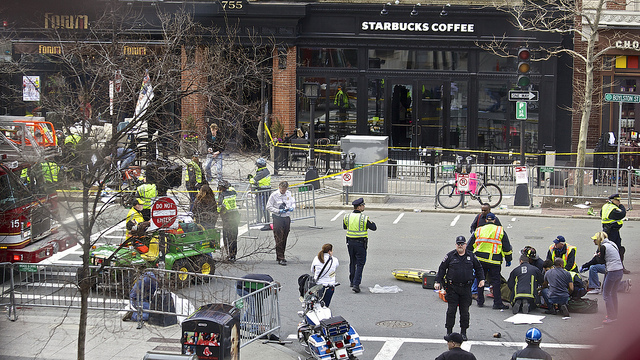 Boston Marathon Bombing Essay
Understanding Dzhokhar Tsarnaev
July 1, 2015
Download this essay in word format (.doc)
A1 A1: Headings are left-justified in regular font (can be bold, though APA does not require them to be in bold- check with your teacher for specific instructions). Introduction
On April 15, 2013, one of the oldest sporting events in the United States, the Boston Marathon, was sent into pandemonium, when two pressure cooker bombs exploded, killing three people and injuring over 250 others. The bomb not only caused serious injuries and property damage, but also sent the city and the nation into a wide scale panic. Many people wondered if the attack was the first in a series of organized terrorist attacks, which led to fear that went far beyond the city of Boston. The Boston Police Department and the Federal Bureau of Investigation (FBI) immediately began looking for suspects, and, by April 18th had identified suspects from surveillance video. Releasing the video led to identification of the suspects, a pair of brothers, A2 A2: With unusual or uncommon names, keep in mind that your spellcheck is going to reject them and may try to autocorrect for you. A helpful tip is to double-check to ensure you have the correct spelling and then add them to your dictionary. Dzhokhar and Tamerlan Tsarnaev, two brothers from Chechnya who lived in the United States.
The Tsarnaevs' response to being identified led most people to conclude that they must be guilty of the bombings. A3 A3: This is the type of specific information that would require a citation if obtained from a single source. However, because the same information was available in so many sources, it did not require a citation. After the FBI released their images, the brothers killed a policeman, carjacked a vehicle, and engaged in a firefight with the police in Watertown, Massachusetts. During that firefight, Tamerlan was injured. Dzhokhar escaped from the firefight, running over his brother with a vehicle in the process, and leading the police on a massive manhunt that shut down a large residential section of Watertown. He was eventually found hiding in a boat in someone's backyard, where he was shot and injured during the police effort to detain him. Within a day of identifying the suspects, the police and the FBI had captured or killed both of the men responsible, but still did not understand why they engaged in the bombing.
Manhunt
The bombings took the city by surprise, immediately plunging the people around the marathon into chaos. The manhunt, in contrast, was marked by the seemingly total control and self-restraint that local law enforcement and civilians showed. The manhunt began on April 18, 2013, when the FBI released surveillance video showing the two brothers and identifying them as possible suspects in the bombing. When they released the video, the FBI did not know the identity of the bombers. That night, the brothers killed Sean Collier, a police officer at the Massachusetts Institute of Technology, in what may have been an attempt to steal his weapon. They then carjacked an SUV, and Tamerlan took the driver hostage. Dzhokhar followed them in another vehicle. They forced the hostage to withdraw money from an ATM. The hostage escaped at a gas station and called the police, letting them know that his cellphone was still in the vehicle, giving the authorities a way to track the brothers. The police in Watertown, a Boston suburb, spotted the brothers and attempted to apprehend them, resulting in a shootout between the police and the brothers. Tamerlan was mortally wounded in the ensuing battle; not only was he shot several times, but he was also hurt when his brother ran over him with the stolen SUV. Tamerlan died at the hospital, and the police continued their search for Dzhokhar.
Download Full Essay In MS-Word Format
Download Full Essay
During the search, the city was put on lockdown and citizens asked to stay in their homes while the police conducted door-to-door searches in Watertown. However, by evening the searches had not yielded Dzhokhar's location and the fear was that he had somehow managed to escape the area. The police called off the search. A man later went into his backyard to check on his boat, and found Dzhokhar hiding in it. A4 A4: This is not a direct quotation, so there are no quotation marks and the citation follows the information. The citation is author, date format. Usually the author would be the author's last name, and the date is the year of publication. There was no single author at this resource. The man called 911, and the police arrived and were able to take the injured Dzhokhar into custody (History.com Staff, 2014).
Motive
More than two years later, the brothers' motivation is still unclear. They self-identified as racial Muslims and their religious beliefs are believed to be a partial motivation for their actions. However, Dzhokhar denied any involvement with an organized terrorist organization, and the authorities never found evidence to link them to a larger terrorist organization, though they did visit al-Qaeda websites, which is where they learned how to build their bombs A5 A5: For one or two authors, list the author's last name in the in-text citation. For multiple authors use the main author's last name followed by et al. (Cooper et al., 2013).
In some ways, the fact that the brothers were not affiliated with a larger terrorist organization was a relief for law enforcement officials, who feared an onslaught of carefully planned terrorist attacks. However, in other ways, the fact that the brothers acted outside of a larger group was more terrifying to law enforcement. The concerns was A6 A6: This citation takes words directly from the source. This is called a direct quotation and must be set off by quotation marks, or, if the passage is longer than five lines, set off in a block quotation. "the two brothers could represent the kind of emerging threat that federal authorities have long feared: angry and alienated young men, apparently self-trained and unaffiliated with any particular terrorist group, able to use the Internet to learn their lethal craft" (Cooper et al., 2013). However, their anger and alienation may explain why they were looking for a cause, but it does little to explain how that anger and alienation led them to stage an attack on people that they did not know at the Boston Marathon.
Furthermore, Dzhokhar indicated that the Boston attacks were just the beginning for the brothers; they intended to carry out similar attacks in New York City. Just as they had no specific targets in the Boston bombings, they had no specific targets in the New York bombings. Instead, their planned goal simply seemed to be hurting people at an iconic American event or location. Clearly, they were motivated by an anti-American sentiment, but examining their backgrounds did not reveal a source for this attitude. There is no evidence that they were mistreated by other Americans since they immigrated to the country. Furthermore, while they indicated that they had ideological problems with the wars in Afghanistan and Iraq, they had no personal contacts with those wars or people directly impacted by those wars.
In fact, according to substantial testimony by family and friends, Dzhokhar's personal experiences in America appear to have been positive. His mother and his brother moved towards more radical Islam after they moved to the United States, as evidenced by his mother's transition from western-style clothing to traditional Muslim clothing and Tamerlan's openly religious attitudes. However, Dzhokhar did not seem to be making the same transition and was not described as being overtly religious by those who knew him. In fact, peers described him as a typical but bright American teenager who liked rap music, video games, and fast cars (Richinick, 2015). This description would lend some credence to the idea that Dzhokhar was the follower and his brother Tamerlan the mastermind of the bombing.
In fact, family dynamics seems to have played a far greater role in motivating Dzhokhar to commit his horrible crimes than any religious ideology did. There are a number of witnesses who have suggested that Tamerlan had been having auditory hallucinations for an extended period of time, and that these hallucinations had previously taken "command" form; instructing him to take certain actions (Jacobs et al., 2013). While his parents were aware of these hallucinations, they did not get him any psychiatric treatment. Instead, his mother believed that the cure for his problems was to become more religious, encouraging Tamerlan to embrace Islam and turn away from the partying and the moderate drug use he had adopted (Jacobs et al., 2013). The family came to the United States as very moderate Muslims, but gradually most of the family became more conservative, with only Anzor, the father, refusing to embrace a more radical version of Islam. In addition to Islam, Tamerlan also took an increasing interest in boxing.
While Anzor resisted the religious trappings of radical Islam, he openly embraced cultural traditions that he associated with Islam and being Chechen. He refused to allow his daughters to marry outside of their culture, instead arranging their marriages during their teens. Both daughters returned to the family home shortly after getting married, and began to have conflicts with the law. Tamerlan began to experience some problems in his boxing career and face his own legal troubles, including a domestic-violence based assault charge. He then met his wife, a Catholic, and moved in with her prior to marriage. She became pregnant and then converted to Islam before the two of them married.
Around this time, both of the brothers were noted by the FBI as suspected terrorists.
"Russian authorities said they had secretly overheard a telephone conversation between the two of them in which jihad was mentioned, and they tipped off American investigators. But after the three-month investigation, the FBI put their names in a terrorism database and closed the case" (Jacobs et al., 2013). The family dynamic continued to decline; the parents filed for a divorce, with the father leaving the United States. Tamerlan became increasingly involved in Islam and in conspiracy theories about 9-11 and political ideology about America's intervention abroad. However, despite Islam's prohibitions against drug use, Tamerlan did not stop using drugs and is now considered as suspect in the 2011 murder of two of his friends, which has long been considered a drug-related homicide. Tamerlan left the United States and went to Dagestan, his mother's home country, which was experiencing an Islamic revival. There he joined the Union of the Just, an organization that promoted the establishment of Sharia Law and worked against civil rights violations against Muslims, but did not espouse violent solutions. It was in Dagestan that Tamerlan made contact with radicals that did have connections to violent Muslim groups, and that contact was what inspired the Russian authorities to flag him as a potential terrorist. When he returned to the United States, he was espousing a much more radical form of Islam and was even asked to leave the mosque in Cambridge because of his outbursts.
Meanwhile, Dzhokhar, who had experienced significant academic success as well as success as a wrestler at his high school, began his own downward decline. He went to college, but instead of pursuing academic excellence, he began to pursue a criminal lifestyle. Several sources say that he was a high-volume marijuana dealer who sometimes carried a gun (Jacobs et al., 2013). He also became known as a risk-taker because of his aggressive driving. However, his behavior appeared to be in-line with an out-of-control American teenager than a would-be terrorist. Law enforcement seemed to view him that way, as well; despite having run-ins with the police on a frequent basis, Dzhokhar was consistently able to talk himself out of trouble. He hid his declining grades from his friends, but gradually began to spend more time with his brother, learning about radical Islam and eventually plotting their bombing attack.
Trial
Dzhokhar pleaded not guilty to the charges against him. He was the only person charged directly with the crimes related to the bombing, though three of his friends were charged with conspiracy and similar charges for helping him. However, those charges related to the men attempting to hide evidence that could link Dzhokhar to the crime, rather than to any allegations that they helped him with planning or carrying out the bombing attacks. Interestingly enough, those men were friends of Dzhokhar, not Tamerlan, despite the defense's strategy of painting Tamerlan as the mastermind and Dzhokhar as the younger brother blindly following in the footsteps of his older brother. In fact, despite his not guilty pleas to all charges, Dzhokhar's defense was not premised on actual innocence of the charges; on the contrary, his defense attorneys admitted that Dzhokhar played a role in the bombings in their opening statements. Instead, their trial strategy was an attempt to paint Tamerlan, and Tamerlan's wife Katie, as the ones who came up with the plan and orchestrated the violence. However, Dzhokhar was found guilty on all counts.
The real point of the trial seems to have been the defense's attempt to humanize Dzhokhar and help him avoid the death penalty. In fact, the penalty phase of the trial took a significant amount of time, with the defense bringing multiple witnesses to testify about Dzhokhar's gentler personality as a way to argue against capital punishment. Notably, one of the families of four murder victims testified that they were against the death penalty and asking that Dzhokhar not be sentenced to death. In addition, Sister Helen Prejean, who may be the country's most famous death penalty opponent, testified on behalf of Dzhokhar, discussing how he showed remorse after the bombing.
Conclusion
In fact, at this time, it seems like the local attitude towards the death penalty is more crucial in the decision than Dzhokhar's own complicity. The jury has already found him guilty of 30 counts related to the terrorist act, including four murders. There is no question that they find his acts reprehensible and that he is considered dangerous, whether in or out of prison. After all, one of those murders was committed while he was attempting to evade authorities and outside of the original context of the bombings. In addition, one has to remember that Dzhokhar ran over his own brother with an SUV in an attempt to escape his punishment. Therefore, A7 A7: This is a continuing news story and a verdict is expected at any time, therefore putting the date that the paper was written in the body of the paper helps explain why it might not contain crucial information available to the public at the time the paper is read, though not when it was written. In this instance, that crucial information is the sentence. as of the morning of May 14, 2015, when the jury has yet to return a verdict on Dzhokhar's punishment, the real question seems to be whether the city of Boston wants vengeance or punishment, and whether it is possible to separate the two in a case like this one.
A8 A8: Every once in a while, you will complete a paper or research project only to find that a critical update occurs after the project is completed. For example, if you had been assigned this essay and been told to complete your research by May 15th, the information about his sentence would have been unavailable. However, a paper on the bombing that did not include his sentence, once available, would have seemed incomplete. Scenarios like that can use an epilogue, update, or afterword section to provide that additional piece of missing information. Here, the epilogue is only two sentences, but provides the reader with the necessary information. Epilogue
On May 16, 2015, after 14 hours of deliberations, the jury sentenced Dzhokhar to death for his crimes. However, while the jury can recommend the sentence, it is actually the judge's responsibility to sentence a defendant and the judge did not sentence him until June 14, 2015. The sentencing came during the Islamic holiday of Ramadan, which is significant because it is when Muslims traditionally ask for forgiveness for wrongs they have done to others. The apology does nothing to his sentence and was given after he was already sentenced; in other words, without the expectation that it would impact the outcome of his case. While it is impossible to describe the meaning of the apology, it is noteworthy that it is the first time that a domestic terrorist has apologized to victims or survivors.
A9 A9: References are listed on a separate page, following the conclusion of the text. It is labeled References, which is centered at the top of the page. References
Cooper, M., Schmidt, M. & Schmitt, E. B1 B1: Reference list citations begin with the author last name followed by the first initial. All authors are listed in the citation in the same format, regardless of how many authors are credited for the work. If there is a corporate author, the corporate name replaces the author name.(2013, April 23). Boston suspects are seen as self-taught
and fueled by web. Retrieved May 13, 2015 from New York Times website: http://www.nytimes.com/2013/04/24/us/boston-marathon-bombing-developments.html?pagewanted=all&_r=2&
History.com Staff. (2014). Boston Marathon bombings. Retrieved May 14, 2015 from
History.com website: http://www.history.com/topics/boston-marathon-bombings
Jacobs, S., Filipov, D. & Wen, P. (2013, December 15). The fall of the house of Tsarnaev.
Retrieved May 14, 2015 from The Boston Globe website: http://www.bostonglobe.com/Page/Boston/2011-2020/WebGraphics/Metro/BostonGlobe.com/2013/12/15tsarnaev/tsarnaev.html
Malone, S. & Barber, E. (2015, May 11). Boston bomber told nun 'no one' should suffer as his
victims did. Retrieved May 13, 2015 from Reuters website: http://news.yahoo.com/boston-bombers-life-balance-trial-enters-home-stretch-110338880.html
Richinick, M. (2015, May 13). What the trial has shown us about Dzhokhar Tsarnaev.
Retrieved May 14, 2015 from Newsweek website: http://www.newsweek.com/what-we-
learned-about-dzhokhar-tsarnaev-sentencing-331313
Download Full Essay