President Donald Trump Essay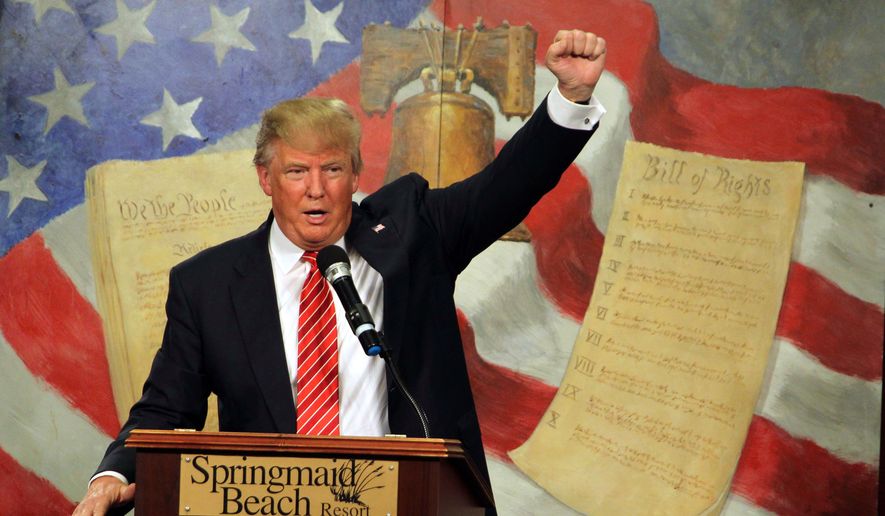 Donald J. Trump Elected the 45th U.S. President
A1 A1: Although APA 6th ed. does not specify how epigraphs should be formatted, a common approach is to block indent .5" on both margins and single space the entry. It promises to be a clown car heading down a mountain highway without brakes. = Tom Ricks, Defense Analyst, November 18, 2016
Download this essay in word format (.doc)
The votes have been mostly counted now in what was perhaps the most contentious presidential election in American history and even though the Democratic Party candidate, Hillary R. Clinton, received about two million more popular votes, Donald J. Trump won a decisiveness victory in the Electoral College to secure the presidency on November 8, 2016. The epigraph above is reflective of the sentiments expressed by many observers following the election, but President Barack Obama and other national leaders insist that the country give Trump a chance because "if he succeeds, America succeeds." The cabinet selections made by President-Elect Trump have caused these same national leaders to question whether he intends to be a president for all Americans or just for the elite. There are also numerous questions about potential conflicts of interest between the new president and his far-flung business interests. To determine how the next 4 years may play out, this paper provides a review of the literature concerning President-Elect Trump's recent election victory and what he plans to accomplish during his tenure, followed by a summary of the research and important findings about the newly elected president and his plans for America in the conclusion.
Review and Discussion
Just as most of the polls and pundits predicted that New York Governor Thomas Dewey would soundly defeat Harry Truman for the presidency in 1946, pollsters and analysts alike were dismayed and even shocked as the election results were tallied on November 8, 2016. Despite an early modest lead by Democratic challenger Hillary Clinton, the election results soon turned in Trump's favor and before the day was out it was clear who the next president of the United States would be. Following the announcement of the election results, analysts scrambled to explain how was able Trump to leverage his flawed campaign into what may be the most "stunning political upset in American history" (Powell, 2016, p. 3).
One of the most commonly advanced explanations for Trump's victory was his ability to tap into the anger felt by many Americans concerning the way the federal government has been operated, concerns over illegal immigration and a general lack of economic progress. For instance, Powell (2016) reports that, "From the moment he descended the escalator at Trump Tower in the summer of 2015 to announce his improbable candidacy, Donald J. Trump surfed that anger" (p. 3). Not only is the president-elect the oldest candidate to assume the presidency at 70 years old, he will also be the only candidate elected to the nation's highest office that has never held an elective office or served in the U.S. military. The president-elect's background, though, does include numerous real estate investments and a stint as the host of his television reality show, The Apprentice. A2 A2: Like books, the titles of television programs should be italicized.
To his credit, the president-elect has taken some steps towards reconciliation with his former political opponents on both sides of the aisle, and his transition team has likewise gone to great lengths to calm jittery Americans about the future of their country (Goldmacher & Restuccia, 2016). To date, Trump's transition team has been in contact with top federal agencies, including the Departments of Defense and State and published a list of world leaders the new president has contacted (Goldmacher & Restucia, 2016). The president-elect has also announced that he will make the repeal of the Affordable Care Act ("Obamacare") a major priority of his administration as soon as he assumes office (Diamond, 2016). It remains unclear, however, whether he intends to retain some parts of Obamacare or plans to replace the entire legislation with free market solutions (Diamond, 2016). As with many other issues the newly elected president has weighed in on, there has been some vacillation on Obamacare as well (Diamond, 2016). Nevertheless, Trump's campaign promises included no reductions in Social Security or Medicare, demands for stricter immigration policies and a rejection of multilateral free trade agreements, issues that struck a chord with many white working class voters (Cooper, 2016).
Download Full Essay In MS-Word Format
Download Full Essay
There are some other early indications concerning how the Trump presidency will shape up initially as well. For example, on November 18, 2016, the president-elect announced his choices for three key positions in his cabinet, with Senator Jeff Sessions being tagged for attorney general, Michael Flynn as national security adviser, and Representative Mike Pompeo as the Central Intelligence Agency (CIA) A3 A3: Acronyms should follow the first mention of the term and set off by parentheses. director (Ewing, Domonoske & Johnson, 2016). Although Flynn will not require senate confirmation, the newly designated attorney general and CIA head will require senate confirmation prior to assuming their posts (Ewing et al., 2016). The newly designated attorney general, Sessions, is currently a senator and formerly an attorney for the Justice Department; however, he was denied a federal judgeship for making racist comments in the past (Ewing et al., 2016). Likewise, the new CIA director, Flynn, a retired three-star general, was removed as head of the Defense Intelligence Agency in 2014 following heated disagreements with top staff members in 2014 (Ewing et al., 2016). The new CIA head, Representative Pompeo, has held positions in the House Intelligence Committee and the Benghazi committee and is regarded as less controversial than Trump's other choices (Ewing et al., 2016).
As the reality of the election results continues to sink in, it has become increasingly clear to even "shell-shocked Democrats" and skeptical Republicans that Donald J. Trump will become the leader of the free world on January 20, 2017 (Powell, 2016, p. 3). In his book, The Art of the Deal, Trump explained how his deal-making expertise in the private sector can be applied to running America like a business and some observers believe that this experience was what convinced many voters that Trump was the better choice for president (Powell, 2016). As Powell concludes, "The U.S. has decided to take the risk that Donald Trump can 'make America great again.' By winning the presidency, he confounded his many skeptics. Over the next four years, he needs to do it again" (2016, p. 3). Clearly, the stakes are high, though, and many analysts believe that Trump lacks the acumen, statesmanship and diplomacy needed by a U.S. president and the only general post-election consensus to emerge thus far is the need to "wait and see."
Conclusion
When Donald J. Trump announced his candidacy for the U.S. presidency in mid-2015, most political analysts dismissed him as a little more than a joke, only to be thoroughly dismayed as the election results became official. By defeating Hillary R. Clinton to become the 45th A4 A4: APA 6th ed. requires "th" to be in lowercase; since most word processing programs automatically superscript this entry, writers must turn the feature off or simply add a space between the number and the "th" and then delete the space. U.S. president, Trump made it clear that there were large segments of the American electorate who felt marginalized by past federal government policies and it was possible to tap into this anger to overcome more than a dozen Republican aspirants and a Democratic challenger no one thought he could beat. The research was consistent in showing that despite widespread opposition to Trump and his policies, many American voters believe that he was the best choice for the job and want to give him a chance to prove it. Whether the next 4 years will be like a "clown car heading down a mountain highway without brakes" or a new era for American nationalism and prosperity remains to be seen, but it is reasonable to conclude that hundreds of millions of Americans and much of the rest of the world will be keeping a close eye on the White House in the days to come.
References
Cooper, M. (2016, November 18). How Donald Trump courted white Americans to victory; blue-collar whites say Trump understands how to get the jobs back. We're about to find out if that's true A5 A5: Entry titles in the APA reference list are title capped only (proper nouns and the first word of the title).. Newsweek, 167(18), 3.
Diamond, D. (2016, November 21). Pence says it's official: Trump to prioritize Obamacare repeal. Politico. Retrieved from A6 A6: Online resources should be cited as author(s)' name(s), the last edited date), the title of resource followed by "Retrieved from and the URL. http://www.politico.com/tipsheets/politico-pulse/2016/11/trump-to-prioritize-obamacare-repeal-insurer-mega-merger-trials-get-underway-how-cmmi-could-survive-217513.
Ewing, P., Domonoske, C. & Johnson, C. (2016, November 18). NPR. Retrieved from http:// www.npr.org/sections/thetwo-way/2016/11/18/502207098/trump-picks-sen-jeff-sessions-for-attorney-general.
Goldmacher, S. & Restuccia, A. (2016, November 16). Politico. Retrieved from http://www. politico.com/story/2016/11/how-will-trump-lobbying-ban-affect-transition-231546.
Powell, B. (2016, November 18). How Donald Trump surfed public anger to the presidency; Trump has become the champion of Americans fed up with the "connected class." Newsweek, 167(18), 3.
Download Full Essay